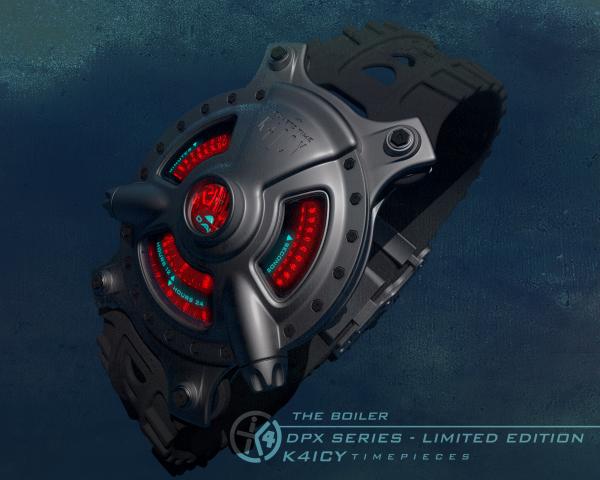 Introducing "The Boiler" - Part of the DPX Watch Series from K4ICY TimePieces.

Whether you're feeding the open hearth or tending the engines below deck, this watch will ruggedly work along with you 24/7.
Each limited edition DPX "Boiler" watch is hand assembled, milled from a super-resilient titanium alloy, and triple plated in stainless steel. This watch is extremely impact resistant, and submersible up to 15 ATM, which means you can wear it almost anywhere!

Quality Features include:

Surfaces designed using the world-renown Moment d'Inspiration 3D-CAD application.
50mm wide face circumference.
Precision Swiss made quartz actuated 57-jewel mechanical carbon/steel movements.
View-ports windows are scratch/impact resistant crystal lenses with precision optical configurations to enhance clear viewing of numbers.
Four "floating" concentric rings host complete sets of moving numbers yielding readings for both 12 and 24 hours, 60 minutes, 60 seconds, 7 days of the week and 31 month dates.
12 and 24 hour rings are independent, perfect for those following military or GMT time.
Face numbers imprinted with a patented phosphorescent/florescent composite material for enhanced visibility in dark and light.
Additional brilliance in the dark comes from three imbedded super bright and efficient UV-light quantum-dot LED's.
Each Crown has three positions to set all time movements individually.
Wristband is made from a composite of Neoprene, silicone and enhanced natural rubber to make it extremely durable.