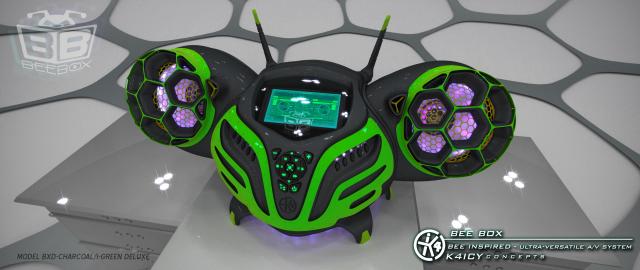 Introducing the "Bee Box" - A "bee-inspired" ultra-versatile audio/visual system from K4ICY Concepts. (Pretend company)

This luxury semi-portable entertainment system will "bee" the life of the party with its sleek appearance and high-performance audio brought to you by a modular design, sophisticated micro-PC control and an enhanced network routing system.

Made from high-impact industrial-grade plastics with a scratch-resistant acrylic display dome and titanium alloy accent trim, this stereo system is quite large at 3' or 1m in width.

Each speaker lobe hosts an individual amplifier circuit and 150-watt dynamic range PA speaker with cones made from Kevlar along with ported internal quasi-phased Piezo tweeters. To top off each speaker unit's performance, each lobe unit is detachable from the main body and can not only be powered from individual 12v/10a power-supplies or deep-cycle batteries, but the audio signal can be routed either from cables or through it's internal sub-channel Wi-Fi remote connection. This Wi-Fi audio routing eliminates any possibility for noise interference for superior sound output.

Speaking of Wi-Fi, the whole concept of how this system functions is based on this technology.
Embedded within the modular housing of this system is a mini-PC which operated from an internal SD card, from this core various sub-systems are controlled along with a fully functional Wi-Fi/DSL router, display module and other essential control mechanisms. Not only can this system function as a router for other devices, but the interaction and control of audio and video pass-through features can be controlled remotely via Wi-Fi, BlueTooth, LAN or internet-based links.

Audio and system controls can be seamlessly operated remotely through tablets, smart-phones and PC's using Android, JAVA, Windows, and Linux based operating systems. Versatile apps ran from any of these devices could serve not only to control volume and playback features but be used to queue, mix and stream media as well. Audio pass-through can also be digitally routed from any device using digital audio conversion/control from the sound-card data on those devices.

Multiple party control and sound streaming from multiple devices is also possible.
How is all this possible. The PC in the heart of the system allows for great control through its on-board drivers and feature loaded apps that are intermittently updated from an online home source.

The user's investment is far reaching as new features and equipment can be upgraded and interchanged.